Distance Learning
Catholic Academy of Bridgeport Goes the Distance with Great Success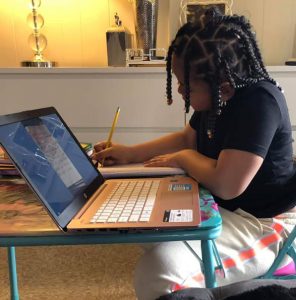 Like our students, our faculty and staff now are working entirely from home. In preparation for this, we worked for a week to survey families and make sure that every student would have access to technology, including lending school Chromebooks as needed. Thanks to distance learning:
Each student in grades 3 – 8 had Google classrooms set up, and emails and access codes were tested before they were sent home.
Students in grades PreK – 2 have prioritized websites where families can log on to access teacher videos, projects, etc.
Google Meet is being used at all grade levels to check in with classes.
Each principal has set clear expectations for teachers to check in with students and families, and teachers are required to check in with students either individually or as a class daily through their school designated portal (Google Classroom or the website) and to check in with families at least once a week via phone call or direct email.
Principals have established a regular plan for meeting with their faculties via Zoom or Google Meet. Each campus is meeting with their faculty and staff at least twice a week, to collaborate, problem solve and provide content and tech support.
Our Executive Director meets with the principals as a group via conference call twice a week on Mondays and Thursdays to check status, and discuss issues as we forge ahead. She also is available to all principals as needed any time via phone and email.
We are still providing content in all subject areas, including PE, Art, Music and Foreign Language.
If you have been watching and hearing in the news what other area schools are doing, the Catholic Academy of Bridgeport far surpasses them. When we say we offer "Something More" we truly mean it — even in these challenging times. We hope you feel confident and at peace knowing that your child will continue to receive a strong, holistic, supportive and personalized education, even if at a distance. Thank you for partnering with us to help make this happen!