On Monday, May 16, the Catholic Academy of Bridgeport (CAB) hosted its 10th Annual Golf Classic at the Country Club of Fairfield, and set an organizational record in raising $1.37 million.
The day began with 24 foursomes enjoying a barbeque lunch followed by 18 holes of golf on the pristine links-style course. Later, 180 golfers and guests gathered for a cocktail reception in CCF's newly renovated clubhouse to celebrate 10 years of outings, and to honor Sheila Clancy and June and Jack Heffernan.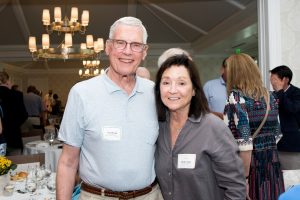 Clancy, a CAB Board member since 2014 and a parishioner of St. Thomas in Fairfield, has been an integral part of the Academy's development and marketing efforts throughout the years. She also is Secretary of the Board, and a faithful member of event planning committees. The Heffernans, stalwart supporters of Catholic education and parishioners of Church of the Resurrection in Rye, NY, are longtime friends of the Catholic Academy of Bridgeport, and Mr. Heffernan sat on CAB's Board until 2021, chairing its Facilities Committee.
During cocktails, CAB Board Chair John Kreitler welcomed guests and expressed gratitude for the many sponsors of the outing. Next, Luis Mendizabal, a 2018 grad of CAB's St. Augustine campus, gave a heartfelt testimony about his time at the school.
"My Catholic Academy of Bridgeport education gave me the ability to understand the world around me better. I always felt challenged by its rigorous curriculum, especially by top-notch English and Math
departments. I felt very prepared when I went on to high school at Fairfield Prep; I already knew what was happening in my math classes because I had learned the same thing the year before at CAB."
Mendizabal said that he believed "every student in Bridgeport deserves such a great education, one that nurtures their intellect and morality." But, he noted, "there is a big predicament that impedes many kids
like me from reaping the benefits of a Catholic education, and it is something they don't have control over: financial ability. Without the means, I would never have been able to go to CAB."
A financial assistance recipient while at CAB, Mendizabal said he also worked every day after school to earn money for his education, something he continues to this day.  "I've always known it's important for me to contribute financially so my younger sister, Leticia, and I can attend private school and get a good education. Most mornings when I pack my school bag, I also pack things to work at my father's landscaping company after school. I usually don't get home from helping him until 6:00 PM, when we have a quick dinner and then I'm off to help my mom with her housekeeping job until 9:00 PM. This is in addition to homework, volunteering, and playing Varsity soccer."
Mendizabal, who was accepted to almost every college he applied to, will attend Fairfield University in the fall. "Not only do I think it is a great school, but being in CT will also allow me to be closer to home
and continue to work with my parents to help pay for my and my sister's educations." Mendizabal hopes to major in Mechanical Engineering at FFU and one day work in the automobile or space industries building efficient vehicles. "Because of people like you, I know my dreams can come true."
Following Mendizabal, guests participated in a live auction, featuring sought-after items like 4 Premium Club Seat Tickets to a Giants' Home Game of Your Choice and A Chef's Tasting for 6 People at Paci Restaurant with Bishop Frank Caggiano. Next came a paddles up for scholarship, followed by the Academy recognizing 11 graduating 8th graders in its Rising Stars program, along with their generous sponsors, who subsidized the cost of each students' tuition for one or more years.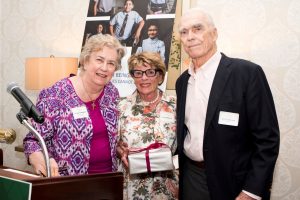 After many pictures and much applause, Board Co-Vice Chair Brad Evans presented Clancy with an award for being "a shining example of philanthropy in action" and someone who "never hesitates to give of her time and talents." Then, Sr. Joan Magnetti, rscj, Director of Major Gifts, presented the Heffernans with an award for "living the gospel of Jesus" and being "anchors of hope, faith, and trust for all of God's children." During their acceptance remarks, the Heffernans announced they would be establishing a "Joan Magnetti Scholarship Fund, with an initial donation of $1 million," noting that "giving to the Catholic Academy of Bridgeport is a great investment." Magnetti was visibly surprised and humbled, and all in attendance were roused to their feet.
CCF golf staff next presented prizes to golfers and Executive Director, Angela Pohlen then thanked everyone for coming. "Today's event helps us to make a Catholic Academy of Bridgeport education accessible to every family that values it," she said. "We are truly blessed."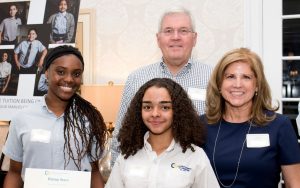 This year, CAB educated nearly 900 PreK through 8th-grade students, 85 percent of whom could not afford the annual tuition of $5,150. Events like the Golf Classic help the school in its efforts to raise $2.2 million each year for need-based scholarship. For more information or to become a Rising Stars sponsor, please contact Susan Cecere at 203-362-2990.