Welcome to St. Andrew Academy!
Dear Families,
We are part or the four Catholic Academies of Bridgeport. St. Andrew has been serving the children for over fifty years. We provide a faith based nurturing environment and a top notch academic program.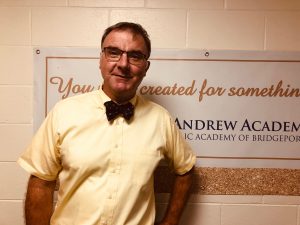 Saint Andrew introduced his brother, Peter, to Jesus. It is our intention to follow in Andrew's tradition to introduce our students to Jesus; through prayer, attending Mass, participating in service projects and religious instruction.
Saint Andrew Academy will prepare your children for academic success in high school and beyond. We will also work to instill the values which will lead them to happy and holy lives. We offer many extracurricular activities, clubs, and family social events. Parents are welcome and encouraged to participate in our Parent Teacher Organization.
We are dedicated to serving the children of Bridgeport. We offer financial assistance to help families with their tuition obligation.
We are looking forward to meeting you.
Sincerely,
Mr. Gene Holmes, Principal